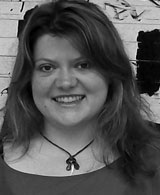 Adrienne
Adrienne Nadeau (AKA: The Warrior Woman) was born with ink running through her veins and it is rumored that her first words were poetry. In June 2004 she went to her first spoken word show and hasn't gotten off the stage since. She uses her creative talents to explore her religious background, speak about women's rights, and vent about her ex-boyfriends.

Now you can find her as a regular performed at diverse venues like Resurrection @ The Lobby and Lyrical Aspirations. Adrienne has been honored as a feature at several events, including Say What? A Spoken Word Event, Poetic Mayhem, Oktoberfest at USF, Black on Black Rhyme's All*Star Poetry Slam, Tampa Museum of Art's Art After Dark, Gulfport's Gecko Fest, WMNF's Poetry Iz and has won many slams and competitions including the Quilt Poetry Slam, University of Tampa's Apollo Night and Bombshell Gallery's Poetry Slam.

March 2008 brought "The Warrior Woman". With 23 tracks and over an hour of spoken word, this collection is the result of 3 years of growth as a poet and a performer.

Other Accomplishments: Opened for Malcolm Jamaal Warner; Performed in 5 states, 2 countries & 5 cities in FL; Shared a stage with 4 HBO Def Poets; Performed and lectured for University of Tampa's "Writing For Alternative Performance Class" (three years in a row!)

Recently: Adrienne just got back from her first national tour! In four weeks she traveled through Charlotte, NC, Louisville, KY, Lexington, KY (slamming at the annual Gypsy Women's Slam with celebrity judge Samantha Raheem), Springfield, MO, St. Louis, MO, Fremont, NE (slamming at The Great Plains Poetry Pile Up with National Poetry Slam champs Ed Mabrey & Big Poppa E) & Gainesville, FL.