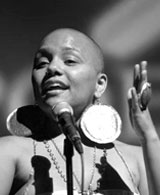 Queen Sheba
What are your options when you are 13 and already contemplating suicide? You hate what you see in the mirror and your daily goals include drawing enough attention to yourself to fill the void of low self esteem with, at least, negative attention. We all know it is not what people say about you, it is when they stop talking that is the most dangerous.

My first therapist, at age 7, said to start a journal. Good thing I hadn't seen The Butterfly Affect then, I would have never started writing. By the time I was 9 my parents came to my first poetry recital. It was the first time I had to memorize anything; A Raison in the Sun by Langston Hughes. My father said that I was the best performer. There was no stopping me now. My girlfriends and I started making up dances in the living room in front of my mother's big bay windows. Hip-Hop was born in New York and we, in Detroit, held our boom-boxes to our heads and bopped down the street to the replacement of an old African rhythm. It was the first time black people found a place to belong in over 400 years. At 15, after being kicked out for stripping in school, cutting class multiple times, kissing too many boys behind too many bleachers my parents sent me off to a youth home, one of three that I would ultimately attend. The journals never ceased. I carried them with me even when I was being moved from group home to group home, shuffled from house to house, hiding from abusive boyfriends and running from truant officers, the journals were my salvation, my refuge, my way to stay alive.

Years later in college, I fused my love for the stage with my story telling ability and introduced myself to Spoken Word. Then something else happened. My university made the same mistake slave masters did with the slaves they favored, they let me read a book or two. I showed a huge interest in the color of politics and why brown was missing from the rainbow. My interest in becoming a news journalist heightened until I ran into the Good Ole' Boy road block. Innovation has been the middle name of most Africans living in America and I did what thousands of others did before me created a new way, created new venues, and created new platforms where voices could be heard, recognized and something we had been lacking since we were thrown off the ship... respected.

In addition to booking national and international artists to perform at my 5-year running successful venues, I am one of the only African women in America to found an international multi-day poetry festival: Virginia's only International Spoken Word festival; Word Up! This festival became my biggest project. So many other ethnic groups had a celebratory time of the year to appreciate their art culture and the origin of their roots, I decided February couldn't house all of it in 28 days, so I added three more at the end of April. This major project sprouted from a one night celebration then branched to a three day community service oriented arts and culture festival fusing visual arts and live music.

This birthed many smaller children, I then became the slam master/grand slam champion for Norfolk, Virginia's first National Slam Team 2004 , the grand slam champion for the 2002 DC/Baltimore National Slam team and founder of the women for positive change movement: The Sistah Cypher. I have had the honor of sharing the stage with platinum recording artists Floetry, The Roots crew at the Black Lilly in Philadelphia, PA, Dwelle, Saul Williams, Nikki Giovanni, Minister Louis Farrakan, Heather Headly, Amel Laureux, Blu Cantrell, Jaheim and shared the same performance bill as double platinum Hip-Hop artist and beat guru Kanye West in Miami Fl., then again in Chicago, Ill.

The Oracle had a way of saying things to Neo to give him that push in the right direction, we are all Oracles, it is my job to assist in what we learn to say to each other, we never know what direction it will lead us. I am going to spend the rest of my life finding out.