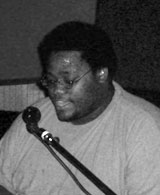 Rashon Medlock
Rashonm@hotmail.com
www.myspace.com/rashonmedlock

At 25 yrs of age, Rashon Medlock has already started to become a known and respected singer songwriter in the southeast. Being new to the live acoustic/Neo-Soul scene, he's already begun establishing himself at home in Gainesville, Fl, and to branch out as far north as South Carolina. Rashon is looking forward to what his future holds as he has just surpassed the one year mark in his professional career. Prior to playing out professionally, he has been honored with several awards for his musical gifts including feature solos, and guest spots on several independant albums. In his solo work, his warm, rich, and powerful voice is joined by the smooth sonority of piano. As far as style goes, Rashon plays a little of everything. His style has been referred to as "Alternative Soul Music." One Reporter called it "... a little bit Jazz, a little Gospel, a little R&B, a little Rock,...a little everything...."

In live performance, its easy to see and hear Rashon's influences from Rock, to Hip Hop, to Gospel. His poetic story-teller style show his range by giving glimpses of real life. They take us from a look at the world from outside the world in his original songs "Borrowed Time," and "Where I Wanna Be." Then he captures the true essence of Love in his up beat love songs "Beautiful You," "Lover,"and "Kate." He shares an introspective reflection on personal events in "Nathaniel," and gives an up close, and personal look at the life of a battered wife in "Tracy." Lastly, he shares his spirituality with the high energy spiritual "John the Revelator", which is one of the clearest depictions of the religious overtones reflected in his music. You'll also find classical influences in listening to "Dade's Eyes," a four minute quintet for piano and strings composed by Rashon himself, and dedicated to his departed Grandmother.

Aside from spending much time on-stage as a performing singer-songwriter, Rashon is a partner of IcedBerg Entertainment, an independent booking-promotions-artist management-artist development operation dedicated to fostering a community of artists, performers, venues and music lovers. In addition to handling some artist management and development duties, IcedBerg handles some booking and promotions duties at Gainesville venues such as the Purple Porpoise/Midtown, and Damon's Downtown. IcedBerg Entertainment has also been involved in community-building projects with Rock Solid Promotions (Gainesville, FL), Silver Dollar Productions (Columbia, SC) and Wild Card Records (West Palm Beach, FL).

During the last year, Rashon spent a lot of time playing local venues such as The Purple Porpoise, Eddie C's, The Side Bar, Faces Lounge, Civic Media Center, The Shamrock, Faces Lounge, Brownstone's Lounge, The Pontiac Tavern, as well as Katherines Grille(Beaufort, SC), and Island Oasis(Atlanta, GA); he's also made time playing coffee houses, such as Austin's Coffee and film(Winter Park, Fl), and Java Junction (Clearwater, Fl).

Rashon has been a singer all of his life. Before playing clubs and coffee houses, was a Song leader for Miller Street, Sweetwater, and Northside Churches of Christ in Jacksonville, FL, his home town. After coming to college at the University of Florida on a voice scholarship, He sang with the University of Florida Choir, and the University Chamber singers as a chorus member, and as a soloist. This, while almost simultaneously beginning a career as a recording artist/producer. He also spent that time as a Section Leader for Holy Trinity Episcopal Church, in Gainesville under the Direction of choirmaster, organist, and carloneur Lee Cobb. During his tenure in Gainesville, Rashon has graced the stage as a chorus member, soloist with choir, and orchestra, a choir conductor, Children's percussion ensemble conductor, a founding member of a christian quartet called Maranatha, and features on twentieth century pieces including Stravinsky's A soldier's Tale, and Frank Proto's Mingus, Live in the Underworld. He continues to perform classical and non-classical music.

Since Graduating from the University of Florida with a Bachelor of Music in Music Education, He will continue to perform, produce, compose, arrange, and conduct..... His Personal Quote is "If it can be done with music, I do it, or I'm learning to.... "