Events
ThirdEyeSpoken
We're all over the place!!
For More Info Call:
352-514-3122
To join list serve, email:
The Word Is Spoken
For More Info Email: thewordisspoken@hotmail.com
Saturday Nights (seasonal)
Tim & Terry's
1417 North West 1st Avenue
Wild Words
For More Info Call:
352-375-7477
FREE ENTRY
Friday Nights (seasonal)
7pm to 9pm
Wild Iris Books
809 West University Avenue
CMC // Po' Jam
For More Info Call:
352-373-0010
Every Thursday Night
FREE ENTRY
9pm to Midnight
Civic Media Center
433 S. Main St.
Courthouse lots, NW 4th Ave.
Public Library
1st Monday // Every Month
FREE ENTRY
7:00pm to 9:00pm
On the third floor
in the meeting room
News
December 2005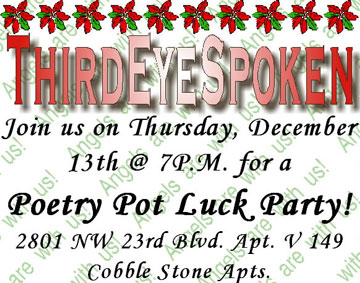 Friends of ThirdEyeSpoken celebrated the holiday season with a poetry potluck clothing and toy drive. We were able to donate generously to Toys for Tots and to the local homeless shelter, St. Francis House. We shared some really amazing food, art, and fun on Tuesday, December 13. Kristie from the Apartment Poets was generous enough to open her house up to the ThirdEyeSpoken crew, thanks Kristie, we love you!!! Much thanks to Ed for his poetry debut, we are creating art as well as artists here in Gainesville!!!

Our blessings are with Leo as his journey leads him to D.C. He is one of Gainesville's most powerful spoken word artists and will undoubtedly make the same lasting impression in D.C. as he has on us. We love and miss you, Leo! May our paths be fortunate to cross again.

We are looking forward to our next event in January!
November 2005
Our main event for November was a Thanksgiving food drive which benefited The Bread of the Mighty Food Bank, a local organization providing support to those in need. The event was well attended, with a beautiful outdoors setting for poetry. We would like to give Mike Bobbitt a special thank you for opening his home for this poetry pot-luck party. We were able to donate over two-hundred pounds of food to the food bank, which helped them create Thanksgiving baskets.
ThirdEyeSpoken is so grateful to all the support received to make this night possible-our vision is truly manifested when beautiful art and service work collaborate to make a difference in our community.
October 2005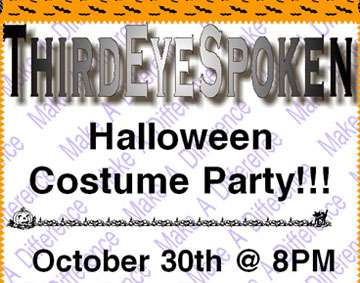 Thank you to all who attended ThirdEyeSpoken's first fundraiser, the Halloween Costume Party! We had a great night, awesome attendance, costumes and of course poetry!

The winners of the costume contest were an angel, cow girl and alien. The poetry contest which had the theme "ghost," was won by Jimmy, What, and Katrina. Each winner went home with a customized basket donated by the Apartment Poets, New Words Order, CMC, and ThirdEyeSpoken's fabulous Nubia. As always, DJ Miguel had the crowd spun with his hypnotic flow.

We were able to raise close to two-hundred dollars for AmeriCares, an organization who is helping rebuild the art community in New Orleans damaged during Hurricane Katrina.

Our friends, Pedro Jarquin and Batalli from St. Pete (in association with Studio 620) traveled around Florida to help make these fundraisers possible, and are trying to get donors to match what was raised. Our night could contribute up to four-hundred dollars for AmeriCares!

Stay tuned for our next event and, as always, we love you guys!!!
September 2005 // OPENING NIGHT!!
Opening night of ThirdEyeSpoken was a wild success with well over 100 audience members and 30 open micz poets form all over Florida...yeah Tampa represents!! We love you!!! Queen Sheba tore the house down with eight pieces, mostly off her new album, "Get Familiar." We love you, too, Queen Sheba!!

Many thanks to Coffee Culture for providing the venue for our first event, as well as to our support crew-Nubia, Jeff, Joel, Nicolette, DJ Miguel, Kiss 105.3, Magic 101.3, and Tampa's 88.5.

We have since moved to Damon's Downtown in the Sun Center, so check us out and be a part of this powerhouse of spoken word artists, musicians, and producers!