News
November 2006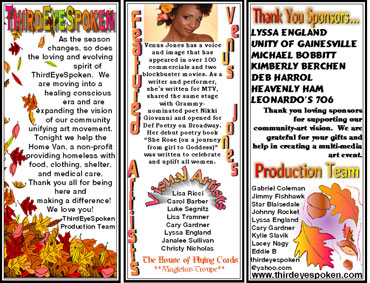 Thank you to everyone who has become a part of the ThirdEye family - November's event was phenomenal! Unity Church of Gainesville hosted our open mic featuring Venus Jones, poet extraordinnaire from Tampa, FL. Thank you Venus and Steve for all you do. The House of Flying Cards magician troupe performed incredible feats of wonder, and Nancy Aschert provided a harmonious atmosphere with her piano melodies. We had some incredible visual art decorating the walls as well as some outstanding talent on the mic from Gainesville, Tampa, Atlanta, and Tallahassee REPRESENTIN!

A huge thank you to our gallery artists: Lisa Ricci, Carol Barber, Lisa Tramner, Cary Gardner, Lyssa England, Janalee Sullivan, and Christy Nichols for sharing your spirit and talent with us as we came together to support the work of the Home Van, a grassroots organization whose workers have tirelessly given to those in need in the Gainesville community for years. The director of the Home Van said, "Thank you so much for having this event for us. I didn't know how we were going to make it through the winter. This will last us for months."

After an outstanding night of spoken word, music and art we closed out the evening with Dances of Universal Peace, a way to synthesize all the different energies coming together using rhythm, music, and sacred phrases... Thank you so much to Diana Kanoy for sharing your profound attunement with us.

We love our sponsors the best because without them, none of this would be happening. Thank you sponsors! Lyssa England, Unity of Gainesville, Michael Bobbit, Deb Harrol, Heavenly Ham, Leonardo's 706 and Sweetwater Coffee. These are the people who support the arts in Gainesville so support them if you can please. Love you love you love you!!!
September 2006 // ONE YEAR ANNIVERSARY!!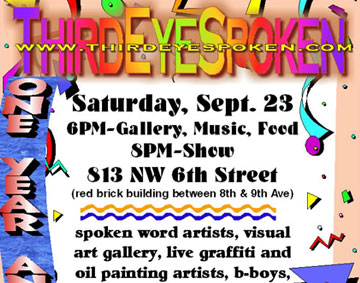 Thank you to everyone who participated in our One Year Anniversary Celebration! We truly expanded the boundaries of how powerful a force spoken word poetry, music, and art can be in our community. Bridges Across Borders made more than $2,200 at this event, our greatest success ever!

We kicked it off with Progressive Madness, a rockin' band from the Seraphim Center, followed by a Hip Hop Extravaganza coordinated by Prophet of What?! The evening was filled with entertaining breakers from the UF Hip Hop Collective, live grafitti art by Slade and Namer, and three mind blowing emcees rippin' the mic, Cardiac, Chief Blesn, and our own Prophet of What?! Our new Visual Art Director, Lyssa England, dazzled the walls with fresh and innovative visual art produced by Nicki Nagy, Cary Gardner, Micael Garvin, Willene Johnson, Michelle Martone, Bruce Sherman, Marlena Berkow, Michael Wood, Lydia Cara, and Kd Felisko.

We were so blessed on the mics by our friends The Apartment Poet's Kristie Soares, Katrina Ruiz, Kevin Harris, and Sami Jenkis from Gainesville and Miami, Nation of Poetry's Pedro Jarqin and Nackai, along with Asia Elliot, and Yvette Chevallier from Tampa, and Gainesville's Chelsea Carnes, Mike Watson, Michael Bobbitt, James the Magician, Amanda Garrigues, Christine Heddesheimer, and Marce Guthier. Also performing were ThirdEyeSpoken's Production Crew, Kylie Slavik, Eddie B, and Lacey Nagy along with supporting production members Jimmy Nil Fishhawk, Prophet of What?!, and Johnny Rocket from the Letterbomb Collective.

Thank you so much to our loving community sponsors, Michael Bobbitt, Anahat Center, Roly Poly, Alternatives, Douglass Duren, Leonardo's 706, 633-Ray of Beauty, Leonardo's at Millhopper, Heavenly Ham, Affordable Dentures, Sweetwater Coffee, Bead All About It, Yvette with Martin Lithograph, Marlena with A Better Massage, Diana Blaisedale, Johne Blessed, Bill Kelley, Peter Polshek, Seraphim Center, and the Civic Media Center. We are proud to be a part of a business community dedicated to making a difference through the arts. Thank you for keeping your ThirdEyes open and giving us a thrilling, self-less serving anniversary we will never forget.
August 2006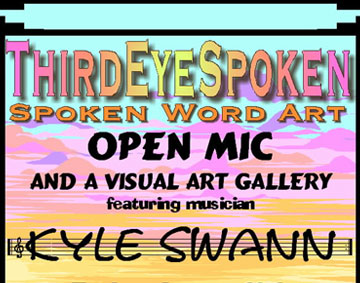 Kyle Swann mesmorized and electrified the crowd at ThirdEyeSpoken's summer wind down. We had a sizzlin' open mic, accompanied by an incredible visual art gallery created by Leslie Peebles, Suzanne Sheridan, Marlena Berkow, Misty Johnson, Lyssa England, and Willene Johnson.

We are taking things to another level by adding an element of healing to our events: we had beautiful crystal jewelry vendors as well as free chair massages by Willam Kelley.

Much thanks to Cakes by Jenny, Gypsy Palace, Peter Polshek, The Seraphim Center, CMC, Jay Marie Clemons, Charlie Harding, and all production members for making another fantastic evening of poetry, music, art, and connection possible!!
June 2006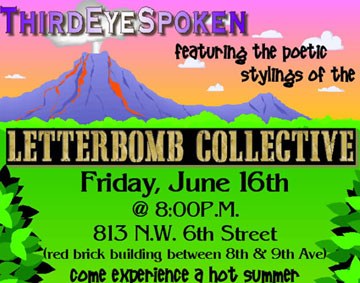 ThirdEyeSpoken teamed up with Gainesville's own Letterbomb Collective to kick off the beginning of summer - and it was HOT!!! The LBC features some of Gainesville's staple poets, Prophet of What, Johny Rocket, Jimmy Nil Fishhawk, and Phil Godwin. These proletariat spoken word artists represent the Civic Media Center's Poetry Jam, Gainesville's longest running open mic of thirteen years.

The spoken word was accompanied with several incredible art installations by local painters and photographers; Kayla, Sam Justyn, Michelle Martone, William Talenti, Flora MacColl, Marlena Berkow, Jill Lavetsky, Jorge Ibanez, and Alma Elaine Shoaf. We are broadening our original vision of bringing the worlds of spoken word and activism into a brilliant collaboration- we are now empowering local artists to get their work out there and providing them with a venue of full of expression, talent, and love.

ThirdEye's family is growing all the time, and we could never have done it without the rockin' Gville community and all the support. Thank you so much to our sponsors; Michael Bobbitt, 633-Ray of Beauty, Crystal Visions, Emiliano's, Tropical Smoothie, and Ian Oz.

Happy Birthday Geminis!
April 2006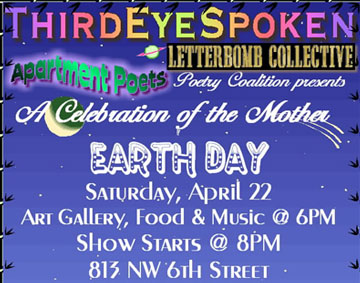 Our April event, in celebration of Earth Day and the Mother was a collaborative effort, pushing the Gainesville Poetry Coalition to explore unprecedented heights!!! ThirdEyeSpoken, The Letterbomb Collective, and The Apartment Poets all joined forces to explore what happens when over one-hundred artists get together and create art, music and life for the upliftment of womanhood, humanity, and the planet.

We had about twenty spoken word artists, singers, two rockin' bands- Cymatic Jam and Tribal Beats, break dancers from the UF Hip Hop Collective, The UF Photography students, local sculptors, painters, and many other forms of art... Together we raised over seven-hundred dollars to support the Chrysalis Community, an organization dedicated to helping women get off the streets, crack and prostitution. This event was a reflection of our hard work over the last seven months to create unity in the poetry community, and to have a "great time for a greater cause."

Thanks to all our amazing sponsors and production members, without you this event would have never been a success!

633-Ray of Beauty, A Better Massage, Affordable Dentures, Alternative Recovery Services, Angel Gardens, Bento Café, Carley Garrison, Civic Media Center, Coffee Culture, David's Real Pit BBQ, Douglass, Eleanor Briseno, Emiliano's, Gifts of Avalon, Ichiban Sushi, Katie O'Donnell, Jay Marie, Las Margaritas, Leonardo's By the Slice, Leonardo's Pizza in a Pan, Lihn Nguyen, Micheal Bobbitt, Peacock's Paint Center, Peter Polshek, Raven Moondance, Rolls n' Bowls, Roly Poly Sandwiches, Satchel's Pizza, Target Copy, The Green Umbrella, UF Village Housing, and Ward's.
March 2006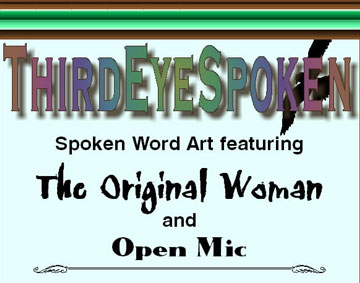 On Saturday, March 18, ThirdEyeSpoken celebrated six months of success, love, and spoken word at Virtually Cuban! Nitche Ward, aka "The Original Woman" graced our stage with an electrifying performance while on her Florida tour for Women's History Month (www.theoriginalwoman.com).

Eddie B powerfully jumped on board ThirdEyeSpoken's production team this month. Ben Campbell showed his skills on the turntables, and local poets provided once again that Gainesville's poetry family is growing stronger all the time!

Thank you so much to our community of support: Michael Bobbitt, Eddie B, Johnny Rocket, 633-ray of beauty, Alternatives, Gifts of Avalon, Target Copy, Great Clips, Wild Iris Books, and Lacey's work crew for finally showing up. You guys are great!
February 2006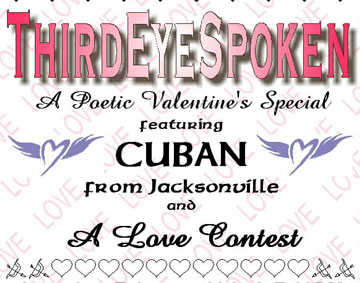 Our Valentine's Day event featured the CD release party of Cuban and a love contest for all of Gainesville's finest poets at Virtually Cuban. Cuban, an 18 year old poet prodigy hailing from Jacksonville, captivated our audience with his open heart, sharp mind and swift tongue.

Poets competed in an array of color on romantic love, heart break and sexy comedy. Our first place winner was Manny from Tampa, second was Katrina from Gainesville and third was Asia from Brandon. Kristie, Sami, Eddie B, Johnny Rocket, Jimmy, Raven, Douglass, and Masiel were the other powerful love poets. After the evening, we all celebrated Kristie's birthday at her place with a living room full of friends and poets spitting free style.

ThirdEyeSpoken would like to extend our very special thanks to Nubia, who provided the winning basket for love poetry contest and to Ben who provided the music. This event sponsored Alternative Recovery Services, an organization committed to helping trauma survivors recover through all forms of the arts, spiritual practice, and clinical intervention. ThirdEyeSpoken believes in having a great time for an even greater cause. Your support is making a difference beyond the night life of our spoken word open mic.
January 2006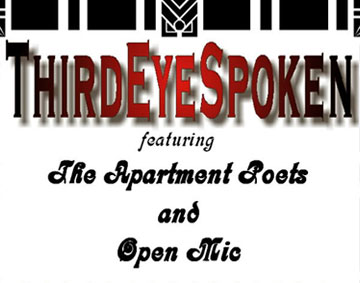 ThirdEyeSpoken's January 20th event was held at the Melrose Bay Art Gallery. Feature poets Katrina Ruiz and Sami Jenkis of the Apartment Poets put on a stellar show for a packed house. Local Gainesville talent included Johny Rocket, Jimmy Fishhawk, Prodigal Son, What, Christina H., Ed Barker, Lacey, Kylie, Katie McEntyre, Douglas (from Miami), and Jack S. Representing from Jax was Cuban, and from the St. Pete poetry scene we had Wes. This event was sponsored by our friends Douglas and Nubia, and Emiliano's Café who serves Gainesville's finest Pan Latin cuisine.

We raised a few hundred dollars for the PACE school for girls and look forward to bringing spoken word workshops into the school with some visiting poets from D.C.

Special thanks to Victoria for helping us set the vibe.