News
November 2008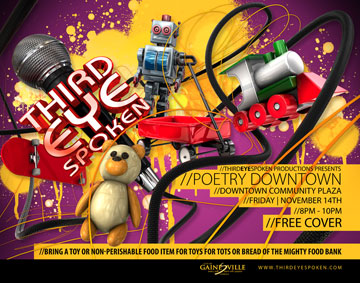 Thanks to the love of art and support from the City of Gainesville, ThirdEyeSpoken performed again at the Downtown Community Plaza with beautiful night weather under a sea of stars. The attentive audience supporters brought food for the Bread of the Mighty Food Bank and stuff animals for Bears for Cares. A wide range of poets shared their gifts and inspired three unexpected poets to spontaneously join us and share their works of art.

Lyssa England , ThirdEyeSpoken's Visual Art Director, painted a masterpeice on stage while Natalie, ThirdEyeSpoken's Photographer, dashed from angle to angle to capture the essence of each performer. Dan rolled around the stage on skates while holding the microphone and singing tunes while Gingerbread Man performed a piece with a playful sound cadence like no one in our crowd has ever experienced before. Starr read a poem from an email she quickly retrived from a Black Berry phone while Eddie stomped his feet in a jingle of "McCain and Palin, no, no, no." Alea, a brand new member of ThirdEyeSpoken Productions and virgin to the stage, blew the audience away with her powerful stage presence while Izzy, a 16 year old from GHS's Out Spoken, held her head high and asserted a poem called "I Am Me."

We'd like to thank our sponsor, the City of Gainesville , and a special thank you to David Ballard for giving us the opportunity to speak our mind...in a family friendly way, of course.
October 2008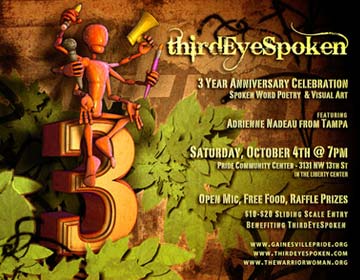 Three Years!!! Through hard work, commitment, and of course, fun- ThirdEyeSpoken Productions has left an indelible mark on the greater Gainesville community. This pinnacle event held at the Pride Community Center featured Adrienne Nadeau, aka "Warrior Woman," from Tampa, FL. The open mic was fresh and amazing, thank you to all the loyal ThirdEye poets and friends, as well as the new voices we heard on the microphone for the first time. Three of UF's Sign's of Life Hip Hop Theater showed up and made a powerful impression on Gainesville 's limelight poetry scene. Inspiration is so key to our growing as a community! Lyssa England and Mary Held decorated the space with beautiful visual art and Will Maurer kicked off the melodious evening with gentle waves of music rolling from his tongue and fingertips on his guitar.

Our feature, Adrienne Nadeau, blew the crowd away with her powerful verse. Adrienne is the founder of "The Warrior Woman", an organization dedicated to bringing spoken word poetry to young adults through empowering performances, lectures, and workshops. For more information about The Warrior Woman, visit her on the web: www.thewarriorwoman.org.

Food and door prizes were bountiful, no one left empty handed. Thank you to our generous sponsors for making our events dynamic; Five Pound Pixle, Sweetwater Organic Coffee, Olive Garden, Falafel King, Atlanta Bread Company, Satchel's, Hogan's Subs, Crispers, Ashley's Pub, Emiliano's, Gator Dawgs, Bagels Unlimited, Mellow Mushroom, Dragonfly Sushi, Stinky Lewis' Soap, Maude's Classic Café', Calico Jack's Oyster Bar, Dr. Carol Kim, Dr. John Byrne, Lacey Nagy, Mary Held, Rainbones, Flash Silvermoon, Constance Wagner, Elizabeth Howard, Take Me Magical Places Coffee Shop, Hands 4 Well Being, Beckie Dale, Marce, Redboy, Mama Raga, and French Addiction. We'd like to give a special thank you to Jenn Wester for joining our production team for the evening and adding so much power to accomplishing a perfect 3 Year Anniversary.
August 2008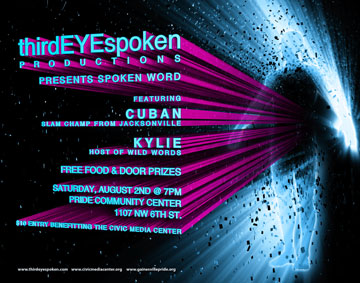 Returning ThirdEye feature Cuban, hailing from Jacksonville, alongside his Minoriteam mate Sonja from Tampa blazed the stage for the Civic Media Center (www.civicmediacenter.org) fundraiser held on August 2nd at the Pride Community Center (www.gainesvillepride.org). Minoriteam won the 2008 Southern Fried Slam back in June and Cuban and Sonja dazzled the audience with their solo and duo pieces. ThirdEye's Kylie also featured as an opening act for them. The open mic portion of the evening was fantastic with so many new poets up there for the first time! We knew you had it in you…Gainesville is loaded with fresh talent! JQAM from Organik Recordings provided us with great music before and after the event, thanks!

The evening also featured a lovely visual art display from some of our local visual art favorites; Mary Held, Natalie Cisneros, Robert Brown, and Pat High with wolf medicine bags.

Thank you to our sponsors. Our events are made possible by your generosity; Thai Fusion, Melting Pot, Sweetwater Organic Coffee, Five Pound Pixel, Dr. Carol Kim, Dr. Lynne Barolet, Lacey Nagy, Kylie Slavik, and Mary Held.

Look for us in October with our 3 Year Anniversary coming up. You know its going to be HOT!!!
June 2008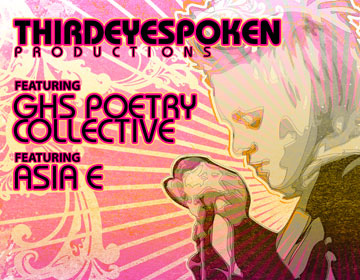 ThirdEyeSpoken's Lacey Nagy produced a series of spoken word art workshops at GHS in conjunction with the Literacy Festival. Students came twice a month after school to learn how to write and perform their poetry and some classes contained as many as thirty teen poets. Every workshop featured a poet from the community; Ryan "Ansr", Paola, Sami J, Kylie Slavik, Starr Blaisedale, David Maas, Prophet of What, and even the Original Woman from Colorado stepped in for a surprise visit. Kerri Ward and Andrea Vallerand were the supporting GHS teachers who created a poetry chat book for the students and even wrote a couple of duets together. Stuart Clarry donated 100 Cds and cases and Prophet of What set up a live studio and recorded the students' first poetry Cd compilation.

We honored these dynamic young individuals by hosting an event at the beautiful Thomas Center on Friday, June 6, 2008 which featured Jordan House, Viviane Mardy, Shannon Latimer, Chris Yozgat, Kyle McCormick, Julien Barrass-Buskirk, John Singleton, and Isabel Teller. The event benefited and paid these young poets to celebrate their hard efforts and encourage them to be a part of the poetry life in Gainesville. Asia Elliot from Tampa co-featured and received a standing ovation for her infamous performance poem, "He Loves Me." She has been writing spoken word since age twelve and was awarded a four year spoken word art scholarship in Wisconsin. The evening was full of fresh fire and as always, there were plenty of fun give-away door prizes and a forty-foot long table full of food to feed our guests!

Thank you to our incredible sponsors for supporting our youth! Please support these local businesses: City of Gainesville's Park, Recreation, and Cultural Affairs, Target Copy, Roly Poly, Jamaica Imports, Vasanthi Vanniasingham (acupuncture), Lacey Nagy, Akemi Meeks Borjas (acupuncture), Paradise Smoothie, The Bistro, Fresh Market, Krishna Rose, Book Lover's Café, Five Star Pizza, Stuart Clarry, Burger King, Dunken Donuts, Pita Pit, Reggae Shack, Sweetwater Organic Coffee, Emilliano's, Prange's Florist, Rolls-N-Bowls, Gypsy Palace, Chop Stix, Volta, Five Pound Pixel.

Thank you amazing production team!! Kerri Ward, Andrea Valleran, Kylie Slavik, Eddie B, Johnny Rocket, John Byrne, Jimmy Fishhawk, Lyssa England, Starr Blaisedale, Natalie Cisneros, James Morgan, Mary Held, Will, and Lacey Nagy.
February 2008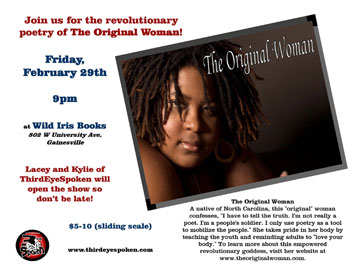 We had to bring her back!! The Original Women blessed the Gainesville scene once again while touring through Florida. This dynamite women is paying her way through law school with a child on the way with her poetry as her full time job!! She, of course, blew away the crowd at Wild Iris Books with her intense story-telling poetry and political insights. You can learn more about this empress, check out www.theoriginalwoman.com.

Krystle Wit a "E" from Tampa and ThirdEyeSpoken's Kylie and Lacey also invigorated the evening by opening up the show with their spit-fire tongues. It was the night of the feminine warrior.

Make sure you check out Gainesville's latest FREE poetry open mic WILD WORDZ at Wild Iris Books at 809 West University Ave on the 1st and 3rd Fridays of every month from 7pm-9pm.
February 2008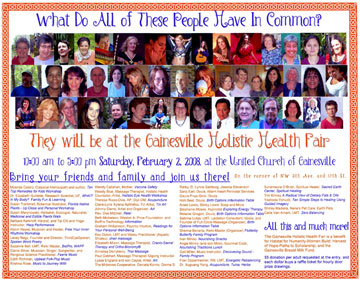 The 2nd Annual Gainesville Holistic Health Fair took place in the beautiful indoors and out door settings of United Church of Gainesville on Saturday, February 2. ThirdEyeSpoken produced the music, poetry, and dancing entertainment in the lovely courtyard while hundreds of people flowed casually throughout the day. The weather couldn't have been more Divine!

ThirdEyeSpoken hosted enchanting musicians such as Krishna Rose, Elaine Silver, Johnny Dame, ThirdEyeSpoken's Will Maurer, Edith Richman, Perry Hornkohl, and Jimmy Carter. Over twenty indigo children also treated us from Jordan Glen School performing a spirit dance, guided by instructor Olapetun.

AND THE POETS!!! The intense, holistic, psyche-twisting, conscious-raising poetry activist-healers included Krystle Wit a "E" from Tampa, Kylie Slavik, Lacey Nagy, Prophet of What, Sami J, Paola, Ryan, Eddie B, Chris, and The Word Is Spoken!'s David Maas.

The sidewalk splashed color with Gainesville's finest visual artists including ThirdEye's Visual Art Director, Lyssa England, Johnny Dame, and David Dahl. Dozens of healers performed wonders inside while charming vendors and information booths of all kinds wove throughout the facility. Some of the holistic healing modalities included:

Acupuncture ~ BioMat ~ Cherokee Medicine Wheel ~ Crystals ~ Doulas ~ Energy Healing ~ EFT ~ Environmental Health ~ Eye Health ~ Family Counseling ~ Healing With Art ~ Healing With Rhythm ~ Herbs ~ High Fat Diet ~ Home Birth ~ Homeopathy ~ Hypnotherapy ~ Inspirational Breathwork ~ Intuitive Counseling ~ Laughter Yoga ~ Massage Therapy ~ Midwifery ~ Natural Pet Care ~ Nourishing Traditions Foods ~ Nutrition Information ~ Orthobionomy ~ Plants and Art ~ Plants and Medicine ~ Qigong ~ Reiki ~ Shiatsu ~ Spirit Dance ~ Swedish Massage ~ Thai Massage ~ Zero-Balancing

This year, all proceeds benefited the Alachua County Habitat for Humanity (Woman Build), the Harvest of Hope, and the Gainesville Breast Milk Fund. For more information about how to be a vendor, practitioner, entertainer, or speaker, email Maria Minno at mminno@bellsouth.net. The slots fill up quickly, so reserve your spot and join us!

We'd like to thank Target Copy for sponsoring this event!