Events
ThirdEyeSpoken
We're all over the place!!
For More Info Call:
352-514-3122
To join list serve, email:
The Word Is Spoken
For More Info Email: thewordisspoken@hotmail.com
Saturday Nights (seasonal)
Tim & Terry's
1417 North West 1st Avenue
Wild Words
For More Info Call:
352-375-7477
FREE ENTRY
Friday Nights (seasonal)
7pm to 9pm
Wild Iris Books
809 West University Avenue
CMC // Po' Jam
For More Info Call:
352-373-0010
Every Thursday Night
FREE ENTRY
9pm to Midnight
Civic Media Center
433 S. Main St.
Courthouse lots, NW 4th Ave.
Public Library
1st Monday // Every Month
FREE ENTRY
7:00pm to 9:00pm
On the third floor
in the meeting room
News
February 2009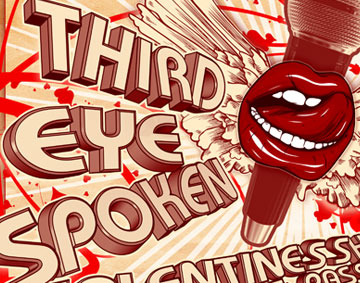 As anyone who was at the Valentine's Day show this year would know, the show went off great. We showcased a Love Poetry Contest and an Erotic Poetry Contest with a chance to win cash prizes. A madcap collection of various hues and shades of love, the show seemed to have a little something for everyone. From folk songs to ad lib to flopping around on stage to a poem, it was a collection of performances that showcased how varied love and passion can be seen. Perhaps it was the chocolate fountain with strawberries and fudge before the show that set the tone. To say nothing of our own in house Eros, Flynn Allen, with his flower basket and the stellar Starr the raffle ticket queen added a playful touch. And of course, the amazing artwork both in the lobby and the slideshow. Thank you artists, Lyssa England for the passionate paintings, Christy Sanford for the seductive and stimulating visual art slideshow, and Salita Timmermeyer (www.bodaciousbeads.biz) for the gorgeous jewelry display.

The show portion of the evening was steamed up by belly dancing from Alena Eising, singing with the saxophone by Sheree DeNeu and Ken McMurray, sizzling erotic poetry by Gingerbread Man, and splashes of love from ThirdEyeSpoken members, Johnny Rocket, Flynn Allen, and Eddie B. Of course, the Hippodrome State Theater's main stage was a magical place to be staging the show, and we can't extend our gratitude to them enough. And not only was the show held there, but we managed to nearly pack the house! To our supportive community, we also extend our gratitude, and our hopes that the show was as magical for you as we put our all into making it. We'd like to give a special thank you to Bill Defeo, Barbara Brand, Kali Blount, Jennessa Paige, Joshua Porter, Alex King, Bhakti Gauthier, Stacy Parrish and Bijan for being a much needed support.

Special thanks to all our outstanding sponsors, as well; Five Pound Pixel, McIntyre Stained Glass Sudio & Art Gallery, Seraphim Center, Wild Iris Books, French Addiction, Alena Eising (LMT, CHt), Emilano's Café, Renaissance Printing, Alternatives Global Market, The Lingerie Company, Gabbriella's, John Byrne (DOM, CHt), Kylie Slavik (LMT), Alea's Adornments, Gainesville Today, Prange's Plantscapes & Florists, Angelic Animal Amiga (pet sitting service), Prosperous Living Center, Satvatove Institute, Gypsy Palace, A Better Massage, and Gifts of Avalyon.

To our community, in all of the ways it manifests, we give our love. We really, really couldn't do it without you.