News
December 2007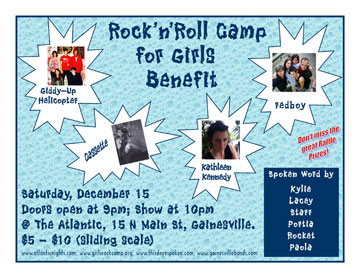 The Rock "N" Roll Camp for Girls Benefit was the last show of 2007 and well, rocked! Giddy-Up Helicopter from Tampa, along with Gainesville's finest, Cassette, Kathleen Kennedy, and Redboy put on a stellar show of female rock entertainment at the Atlantic (www.atlanticnights.com). You can learn more about these talented bands on www.gainvesvillebands.com

The evening was also powerfully supported by the talents of local poets, Kylie, Lacey, Starr, Rocket, Portia, and Helena. These women spoke on topics ranging from the love of a foster child to politics to the expression of the Goddess.

Rock "N" Roll Camp for girls is a non-profit organization that teaches young girls how to become rock stars by giving them professional stage lessons, personal empowerment support, and all of the equipment they need to develop their gifts. For more information about this camp, visit www.girlsrockcamp.org.

A special thank you to the women who pulled this event together, Krissy, Kylie, Jen, and Lacey and also the production team of ThirdEyeSpoken. Welcome aboard, new ThirdEyeSpoken photographer, Natalie Cisneros (www.nataci.com).
September 2007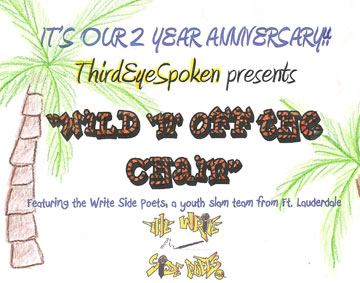 On Friday September 28th ThirdEyeSpoken artists and supporters gathered at Gainesville's lovely Kanapaha Botanical Gardens (www.kanapaha.org) for our Second Anniversary celebration! We were joined by brilliant and high-energy poets from around the state, the most brilliant and high-energy of whom were our featured performers, The Write Side Poets youth slam team from Ft. Lauderdale and Miami (www.writesidepoets.org). Also on the bill were Southern Fried Poetry Slam champion Cuban (www.shatteredthought.com), who along with his brother-in-wordsmithing, Knightkrawler, repped the mean streets of Jacksonville for us; Apartment Poets expatriate Sami J (recently returned to Gainesville from the wilds of Orlando and St. Pete) and a "usual suspects" list of Gainesvillains including Ryan Schaufert and David Maas of CMC PoJam and The Word Is Spoken fame, and ThirdEye team members Lacey Nagy, Johnny Rocket, Eddie B and Jimmy Nil Fishhawk.

This show was a benefit for Florida Wildlife Care (www.floridawildlifecare.org), and it was, as our title stated, truly "Wild-n-Off-the-Chain," with FWC providing hands-on interaction with some of our feathered and furry friends that they are currently rehabilitating. Another wonderful hands-on feature was the free chair massage provided by students from the Florida School of Massage (www.floridaschoolofmassage.com)--thanks to TES alumna Kylie Slavik for that hook-up!

In addition to rocking our socks off with their passionate and tightly-wound words, The Write Side Poets also brought along a sample of their ongoing "Faces" project, featuring handmade life masks of kids from public schools and detention centers who've participated in their poetry workshops, with accompanying audio samples of the young people's spoken words. This ingenious and moving project is traveling the country in a series of exhibits at museums and galleries over the course of the next year, and we are privileged to have been able to experience a "one night only" exhibition right here in Hogtown. Pile on a smorgasbord of delicious food donated by local merchants, some fabulous door prizes, and you've got a one heck of a party! Thanks to all of you who came out and helped us celebrate two years of creative community uplifted through poetry and art, and raise money to support FL Wildlife Care.

Of course, no event of this magnitude would be possible without the generous support of our sponsors, so please join us in supporting these local businesses who support the community and the arts: Beef O'Brady's, Dragonfly Graphics, Emilliano's, Downtown Five Star Pizza, Florida School of Massage, Maude's Café, Roly Poly, Seraphim Center, Sweetwater Organic Coffee, Target Copy, and Working Cow. Thanks also to these individuals whose hard work and generous contributions helped make this event possible: Bijan, David Maas, James Bowen, Karina Boycheva, Kylie Slavik, Lori Hunt, Nicki Nagy, Suzanne Nagy and Vicki Vanderlaan. We would like to especially thank GHS teachers, Kerri Ward and Aimee Anderson, who were responsible for raising over $500 to make this event possible!! Kerri Ward encouraged her students and their parents to donate money to have The Write Side Poets perform inside Gainesville High School the morning of September 28th, so that students could be inspired to pick up the pen and discover their voice! THANK YOU!!

Last but far from least, we would like to take this opportunity to thank and heap praises on our one and only ThirdEyeSpoken Visual Art Director, Lyssa England, who was our featured visual artist for this 2nd Anniversary show, and who has put in incredible behind-the-scenes work for ThirdEyeSpoken, from designing logos to providing artwork for flyers and signs, and even (heaven help her!) taking the official notes at our weekly meetings. Space concerns limited the amount of visual art available at this show, but y'all can look forward to more visual elements at future TES events (hint, hint: visual artists, get in touch NOW to be a part of our next fabulous multi-faceted art event!)
July 2007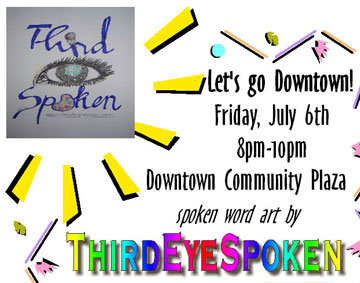 On the hot summer night of July 6th, The Word Is Spoken, Flash Silvermoon, and ThirdEyeSpoken members brought coolness to the stage at the Downtown Community Plaza in Gainesville. The evening was part of a summer line-up called "Let's Go Downtown," and there was a huge audience to enjoy the beautiful poetry radiating from the plaza. Flash Silvermoon (www.flashsillvermoon.com) began the evening at 8pm with awesome jazz and tribal beats which led into each poet doing an average of two poems, with a few providing an encore at the end. We want to thank The City of Gainesville's Parks, Recreation, and Cultural Affairs and especially Bill Bryson and Bill Hutchinson for arranging this event in collaboration with us. We were thankful to have the opportunity to expose more minds to this liberating, art world of spoken word poetry.
June 2007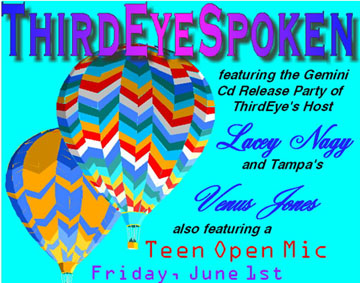 Our June 1st event kicked off the month with style at the Thomas Center, giving 25 great Eastside kids the chance to go to Busch Gardens by performing poetry on the open mic, and duelling as the Gemini album release party for our very own Lacey Nagy and Tampa's amazing Venus Jones. Many fabulous food sponsors made a gorgeous layout of chicken wings, wraps, and pizza possible for our guests to enjoy and we gave away more door prizes than ever before! The food was so plentiful that there were even leftovers to be donated to the St. Francis house afterward, talk about manifesting. The evening kicked off with the Gemini CD release party, but didn't stop there. Everyone in the audience with a Gemini Birthday (May 22nd-June 22nd) was called up on stage and then we all sung "Happy Birthday." Then Venus and Lacey rotated expressing works of spoken word and invigorated the crowd.

The second half of the evening featured a very special teen open mic which allowed the next generation to "spit" their stuff! Performers included Blake-Ashlee Monroe, Kharrie Wimberly, Michaela Bean, Andria White, Anastasia Sapp, Starr Blaisedale, Michelle Williams, J. Carr, and David Williams. Each teen touched the listeners with their originality and surprised many by how deep and intellectual their poems were! It took a lot of courage to get up on the stage and for many of these teens, it was the first time they had ever performed in front of a large crowd. Way to go! This event doubled two great happenings, helping the community by inspiring personal expression and also awarding a group of wonderful teens by sharing their voice. We all got to chow down on great food and over 25 awesome door prizes were given away that evening. Thank you Flora MacColl for being our videographer and capturing the magic! What a night!

Of course, the event was made miraculous by the love of community businesses and sponsors. Please support these business…they are supporting us!! Aesthetic Print and Design, Alternatives Global Market, Bonnie Weiser, City of Gainesville's Park, Recreation, and Cultural Affairs, Emillianos, Embrace, Flora MacColl, Gifts of Avaloyn, Gypsy Palace, Lylly Rodriguez, Maria Minno, Maudes Classic Café, Misa Taskh, Rolls-N-Bolls, Roly Poly, Seraphim Center, Sweetwater Coffee, Vicki Vander Laan, Wild Iris Books, and Wing Zone.

On Saturday, June 9th, ThirdEye's host, Lacey Nagy, completed the community project MISSION POSSIBLE and took 32 Eastside teens and chaperones (Coney and Joy Pinder, Mona Lisa Carr and family, Willie Williams, and Lacey Nagy) to Busch Gardens in Tampa, Florida. These teens had a phenomenal time and some experienced a theme park and roller coaster for their very first time. Sometimes good old senseless fun is the exact ingredient our society is missing to be balanced, happy, and healthy. If you don't agree, then check out our photos page and see for yourself!

We would like to lovingly thank (and send you prayers of abundance and good karma!) to the many community supporters who made this MISSION POSSIBLE. If we have forgotten someone, please email thirdeyespoken@yahoo.com. Seraphim Center, Rev. Bob Estling, Eric Estling, DJ E-Lo, Wild Iris Books, Nicki Nagy, Carolina G, Mindy Underberger, Wilma Null, Romina Serrano, Michelle Martion, James Stringfellow, Janie Rollins, Victoria Vander Laan, Jennifer Pearl, Andrea Nehs, Dr. Steven Showstarke, Elenor B, Josh, Kouri, Jeanne Newcomb, Jim Mitchell, Starlina Bradbury, Barbara Esrig, Katherine Ellison, Flash Silvermoon, Marjorie Rome, Ronnie Esser, Pranarose, Bellamy Road, George Steven O'Brien, Norman (at Unity), Sherrie DeNew, Donald Patterson, Hannah Esser, Wayne Hall, Robin Frey, Paula Tyner, Tai Burgos, The Ranch Health and Fitness Center in Ocala, Bonnie Weiser, Embrace, Joan McBride, Aestheitic Print and Design (Johnathan), Jean-Dan Boardwine, Steven Henry, Dr. Deb Harroll, Connie Girad, Jennifer Wester, Dr. Kristin Shriver, JoAnne M, Pizza Hut on Busch Blvd in Tampa, Conney and Joy Pinder, Willie Williams and Mona Lisa and the Carr family.

We're taking a small break for the summer and coming back with a bang for our 2 Year Anniversary in September. In the meantime, we love you and keep your third-eyes open!
May 2007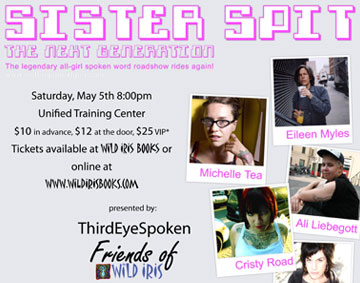 Our latest event had Gainesville attendees reeling on Saturday, May 5th at the Unified Training Center. ThirdEyeSpoken and Wild Iris Books joined together to sponsor a wonderful crew of poets and writers travelling to our town, and opened up with the hometown musical phenomenon, Quintina (www.myspace.com/jazzieque1).

Sister Spit, the team of eight feminist conscious woman poets from all over the country came to finish up their tour in Gainesville. They drove from as far as Canada and San Francisco, and spread originality and spicy uniqueness through book readings and an explosive concluding scene. We served coffee and snacks and the ambiance was set with soft lights, providing a laid back and spongy atmosphere.

Afterwards there was a fabulous VIP party at Wild Iris Books, with food and wine, gorilla poetry, and a souvenir shirt signing with opportunity to mingle with the eight sassy poets. We want to thank the dynamic ladies of Wild Iris Books who helped us share these wonderful women and inspire Gainesville! To learn more about Sister Spit, check out www.sisterspit.com.
March 2007
Poetry Under the Stars was a smashing success thanks to the Seraphim Center & Alliance of Divine Love Ministers, UF Senior Photographers who show cased their graduating senior exhibit, poets from Gainesville, Tampa, Brandon and Jacksonville, and of course, all y'all who show up and support time and time again!

We had an absolutely gorgeous candle lit evening under the stars, with lanterns and tiki torches, the ambiance was fantastic, and the open mic list was one of our hottest ever. Thank you so much all the poets who dedicate their time and lives to open the minds and hearts of the listeners. You keep our community ALIVE!!

We were able to donate money and establish connections for Bridges Across Borders, our beloved Jimmy Nil's organization. Jimmy, good luck in your travels we LOVE YOU! Make sure you check them out at www.brigesacrossborders.org and support in any way you feel called to.

Thank you to all our sponsors: Flora MacColl, Suzanne Nagy, Wild Iris Books, Flashbacks, United Rent-All, Nicki Nagy, Emiliano's, Stinky Lewis' Soap, Deb Harrell, Carla S. Van, Misa Taskh, Barb Kerkoff, A Better Massage, Starr Blaisedale, High Springs Emporium, Kd Felisko, Cary Gardner, Pateh, and Bruce Sherman. Your dedication to the community is invaluable.

Peace.
March 2007
We HAD to bring her back!! Queen Sheba was blessing the nation again on tour and we had to show some love. Thanks to the diligent efforts of Kylie Slavik and DJ Will, Queen Sheba illuminated the stage of Common Grounds and blew the The result? Mind-scramble, higher state of consciousness, goose bumps, screams, and roaring laugher. Oh yeah, Bethsheba, when did you become so comical? It was literally a show within a show. The Queen would connect with her audience and say such off the wall personal stuff, that we were roaring with laughter! Spoken Word is truly the underground movement, and we have queens like Sheba to thank for it. To learn more about why ThirdEyeSpoken and Gainesville is so infatuated with this goddess, check out www.queensheba.org. We love you Queen Sheba!!!
January 2007
The fusion of art, poetry, politics and HEALING sparked a new direction for the ThirdEye Crew with our First Annual Holistic Health Fair. Thanks to Raven Moondance and Maria Minno for having the idea!

Besides our usual poetry, art and excitement we had local artisans and healers set up educational tables to inform the public as to what Gainesville is all about, and what types of healing options are available. Dragon Rises School of Acupuncture and Oriental Medicine and the Florida School of Massage were well represented, as well as many other healers and educators. Thank you Tribal Beats and Barbara Kerkhoff (harp) for providing the melodious ambiance indoors and Nourishing Traditions for the food.

We also had manifestation workshops such as Dream Boards presented by Lacey Nagy, "Manifesting your Perfect Mate" presented by Marlena Berkow, Bruno Groening introduced by Pam Greenwald, and "The Secret" introduced by Miraa Neill. Lectures and Discussions included the Opening Ceremony led by Shenna Benarte, "Vaccine Information" by Wendy Callahan, the "Native American Medicine Wheel" led by Randall Snow, "EFT" with Leroy Gebhart, "Beyond Health Insurance" with Woody Blue, and "Self Care is Health Care" with Cate Miller. Thank you so much for helping create awareness in our community!

The outside show was fantastic, including Capoeira by the Brazilian Cultural Arts Exchange, QiGong with Johnny Dame and Neal Henegar, bellydancing with Suzanne Bell, African Dancing with Iya Olepetun and Neal Henegar, Tai Chi Chuan with Bill Smith, Fencing with Brian Harper, the Dances of Universal Peace led by Jamila, and music by Freedom and Marce. Three rounds of poetry performance were held and thank you so much to Lakey, Johnny Rocket, Eddie B, Sami J, Prophet of What, Gabriel Coleman, Starr Blaisedale, Prodigal Son, Kylie Slavik, Lacey Nagy and everyone else who made the poetry program successful.

Thank you to all vendor and artist participants who donated a door prize, the contributing artists for the silent auction, the entertaining volunteers who supported the children's program, and our sponsors; Freedom, Michael Bobbitt and Sweetwater Coffee. We were able to donate a truck load of charitable items and also money to both the Gainesville Area AIDS Project and Peaceful Paths! It's amazing how much fun it is to be of service in our community!! We're already planning for the next Holistic Health Fair, taking place at the Florida School of Massage this fall. If you would like to be a holistic vendor, artist, lecture host, practitioner, entertainer or volunteer, email thirdeyespoken@yahoo.com.